As the years go by and your teenage son or daughter realizes that having braces isn't as "cool" as it once was, TEEN INVISALIGN is here to the rescue!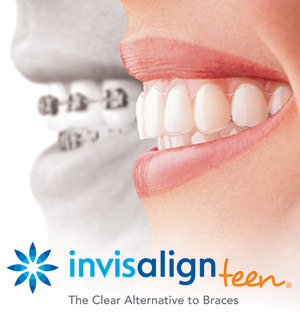 With their clear and nearly invisible braces, your teen would be more likely to want them and have a more enjoyable social life without the restrictions that conventional braces have. As a teenager, we know other things such as homework, sports and school applications can take up a lot of their time, so why add getting braces to their already busy schedule?  Teen Invisalign treatment visits are shorter, there are no emergencies and appointments can be spaced out over longer intervals which means less visits to see the orthodontist over the course of treatment.
The aligners, made of a smooth plastic material are custom made and should be worn for a minimum of 20-22 hours a day.   The aligners are changed every week to gently move the teeth. They are easy to put in and take out, and especially easy to clean, making your teen's at-home hygiene routine less of a hassle. Your teen's mornings and nights of brushing and flossing would continue to be easy breezy!
Do you have a musical instrument or sports playing teen? No need to worry about having those pesky metal brackets causing any physical injuries or impeding your child from playing their instruments beautifully at their recitals. With the upcoming excitement of Bar and Bat Mitzvahs to prom and graduation, metal braces "being in the picture" will also be part of history! Do you think your child won't be a candidate? Think again! These aligners can correct a broad range of dental issues that include crowding, spacing, overbites and underbites. Worried about your teen not wearing their aligners? Blue indicators in the aligner will allow the orthodontist to track your teen's compliance with aligner wear. Invisalign has been paving the way for more "socially acceptable" ways of correcting smiles and some dental insurances are now covering it. Parents can also take advantage of their FSA and our payment plans. Schedule your teenager's evaluation with one of our amazing orthodontists at Central Park West Orthodontics to find out if they are a candidate!
Want more information? Check these out:
https://goo.gl/YqSbT4
https://www.invisalign.com/SiteCollectionImages/teen-site/comparison_chart.pdf
[Note: All images contained in this article are courtesy of the Invisalign Website]